A simple, holistic view of a financial instrument.
Smart Score displays proprietary scores at a glance that guide traders to make informed and timely investment decisions. Spanning technical, fundamental, news and sentiment analysis, Smart Score aims to expand research outside the research portal, using compact insights across high impact placements. This provides traders a full Smart Score of any financial instrument.

How is the price trending on the charts?
The Technical Summary Score enables traders to easily identify the directional outlook of a financial instrument as either bullish, bearish or neutral across short to long time frames.

Is there good value for business performance?
Based on a red, yellow or green traffic light indicator view how well an instrument matches to value investing criteria.

What's buzzing in the news and online?
Identify the overall news sentiment as positive or negative and the amount of attention that news has been getting in the last 24 hours.
Data-driven AI-powered rating system!
Fuel the trading experience for our traders of all skill levels using our target and "score" data feeds. Smart Score gives traders access to key analytics at a glance, as they screen for investment opportunities, explore their portfolio and visit their watchlists.

Analyst Ratings and Value Analyser
with actionable indicators; providing a holistic view of a financial instrument.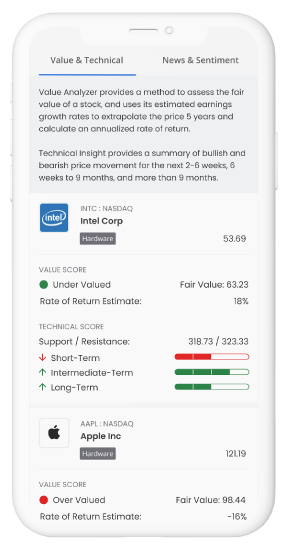 Chart View Mode
Use our proprietary Smart Scores to help traders identify trade opportunities and surface risk.

Mobile Friendly
Compact insights and user interface that spark confident trade decisions.

News Sentiment
Get a real time understanding of media coverage volume on each instrument. See the sentiment of all the news and compare to your competitors
Research in the moments that matter.
Tailor Made Daily Reports. Get the most out of our big data daily directly to your inbox. Supporting traders through compact insights, creating a rich, layered investment experience.