Arming you for success in today's markets.
Economic Insight arms traders with the tools you need to monitor, anticipate and act on market-moving economic events. Its actionable real-time data, powerful impact and volatility analysis tools, and interactive charting enables traders to identify and assess how events are impacting FX pairs. With volatility and price direction, Economic Insight enables traders to make timely and educated decisions. Meanwhile, its transparent, interactive and mobile-friendly experience fulfills your hunger for rich data insights and transparency.
In May 2020, Economic Insight was awarded the "Best Specialist Product" at the Technical Analyst Awards.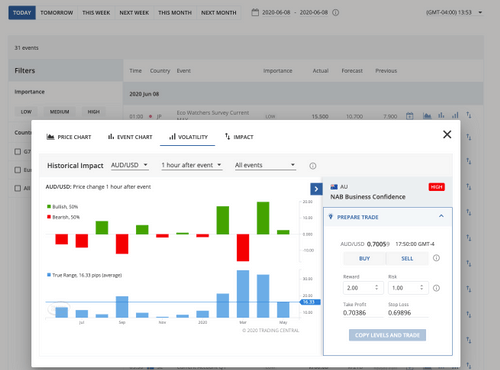 Helping traders act on opportunities.
Our simple "trade set-up" feature enables traders to easily configure the risk/reward ratio they would like to use for a currency pair and see the corresponding take profit or stop loss they would incur. After tweaking to their own personal preference, traders can place a trade using those levels with the click of a button.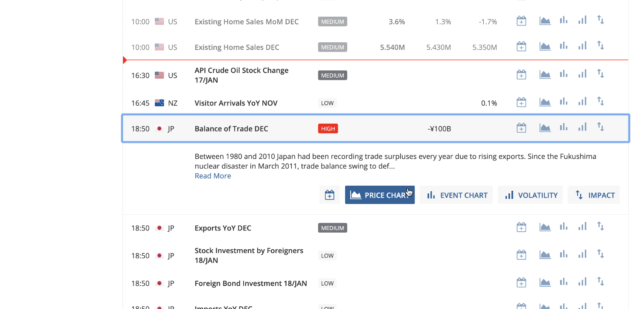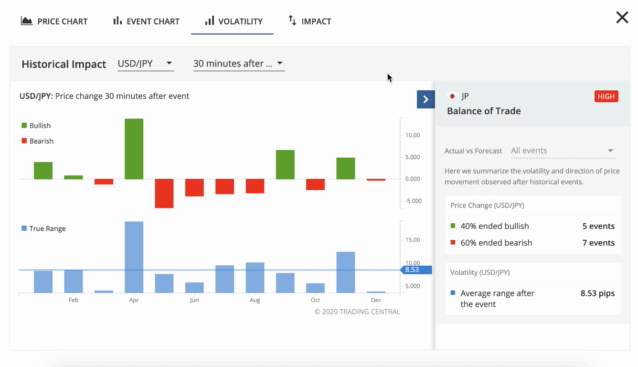 Risk Management made simple
Traders can determine their ideal position size as well as their Stop Loss and Take Profit targets using the historical Average of True Range pips. From there, they can easily monitor events they believe will carry an impact on their positions by adding it to their calendar of choice.
Tangible historical information
Through a combination of the popular "true-range" indicator, a view of the price change and historical average of true-range, Economic Insight enables traders to better understand the impact that a particular economic event will have on an FX pair and enable them to build a strategy around it.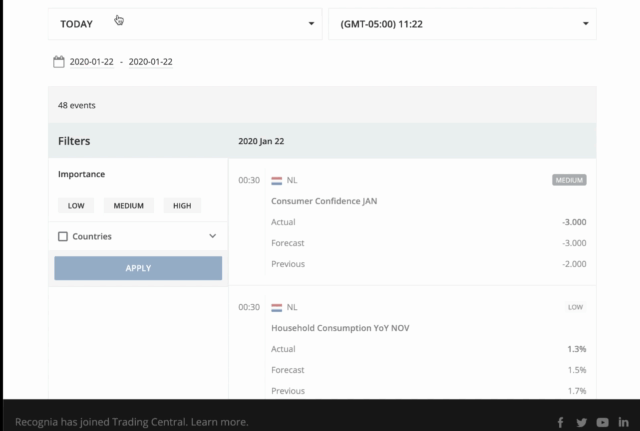 Plus: all the great features of our calendar app!
FX Charts tied to Economic Events: With over 115 FX charts mapped to different economic events, traders can easily monitor their pairs through real-time pricing and quickly act if needed.
Historical performance: The "forecast" and "actual" values over the last 5 years are plotted out for each economic event, enabling traders to easily discover the historical trend and better understand its influence on the currency.
Timely analysis of macro developments and market events in the global economy.
Through a balanced feature set of detailed real-time data, educational guidance and customizable options, the Economic Calendar empowers traders of all skill levels to take control of their investments.

Educational
Traders can watch as the "actual" price updates in real-time to see how it compares to the "forecasted" value or take a peek at how similar events previously played out on the FX chart, enabling them to act confidently in the future!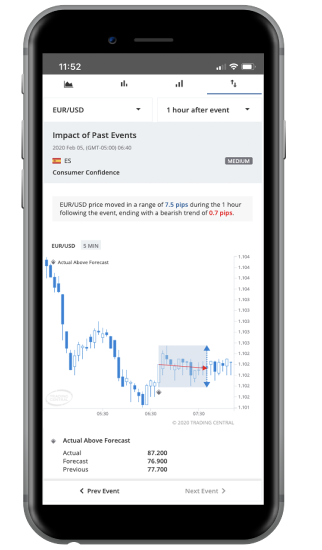 Modern, responsive UI
Markets never sleep, which is why the Economic Calendar looks great on all devices, enabling your investors to stay up-to-date on key market movement, even when they're on the go!

Simple Trade Set-Up
Traders can configure the risk/reward scenario they are comfortable with and easily copy the levels to the order page.

Real-time data
The macro-economic data is tracked and updated in real-time, ensuring your traders are always acting on the most recent data!

Customizable filters
Traders can focus on what's important to them by filtering by country or the importance level of an event, making the insight our calendar delivers more actionable!

Interactive charts
You will LOVE the ability to gather exact data points while hovering over chart or zooming in to particular events of interest.
Economic Calendar™
PREMIUM USER EXPERIENCE & ANALYTICS
Welcome to Economic Insight - We Make Economics Relevant
Timely analysis of macro developments and market events in the global economy, and their implications.